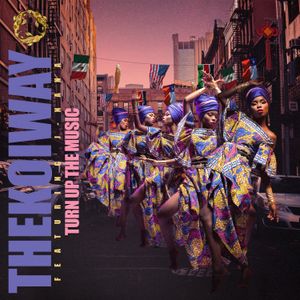 Turn Up The Music
THEKOIWAY
The Afro-Latin legacy in THEKOIWAY's new single 
"Turn Up The Music" 
After presenting their collaboration with Juan Sativo from the Iconic Chilean Hip-Hop Band "Tiro de Gracia" a few months ago, the group releases a song with the participation of producer and musician J - Nana. 
THEKOIWAY, the project, founded in New York by the Chilean musician and producer Víctor Vildósola, releases "Turn Up The Music", a new preview of his next studio work scheduled for next year. 
It is a collaboration with the Kenyan musician J-Nana, where THEKOIWAY captures all his sound eclecticism, taking charge of the African heritage in Latin America. 
"With J-Nana we met at parties this summer in Brooklyn, I was doing a live act and he came up to improvise since we had an open microphone. We hooked immediately, so we decided to collaborate and work from studio to studio, from Kenya to New York", says Vildósola. 
The result is a delivery with Kizomba rhythms, a dance born in Angola and introduced in America at the end of the 70`s, under the mixture of Semba (traditional Angolan music) and contemporary pop rhythms, which together with its rhythmic movements, highlighted for its political character in its lyrics and its African dialects as a protest against the prohibition of using the native language. 
"The strong Afro-descendant heritage that exists in Latin America has evolved and influenced more stylized, urban dances over time, so I hope to give it my interpretation in a contemporary way. My contribution is to make aware of the wonderful cultural mixture that we have as a society", Víctor points out and adds that "since our choreographer Tumi Lambert Vil-Knomo is dual citizens from Southafrica & USA, so it becomes natural to be able to explore these rhythms, since when we develop live work, the choreographic proposal is from its roots, so it is something that comes from the staging and now expands to musicality". 
"Turn Up The Music" comes after the single "El Juego de la Vida" Ft. Juan Sativo, which the group premiered during their last visit to santiago de Chile last May, when they performed concerts at Matucana 100 and at the SCD concert room in Santiago, hand in hand with a published and unpublished repertoire, which has collaborations with Raúl Zurita and Héctor Noguera, both Chile's national culture award holders.
 The musical collective, which takes its name from the mythology of the oriental fish, focuses on a distinctive musical energy, close to World Music and that gives space to traditional folk elements from North and South America with styles such as Funk, Pop, Rock, R&B and Soul, a hybrid that is evident in "Turn Up The Music".